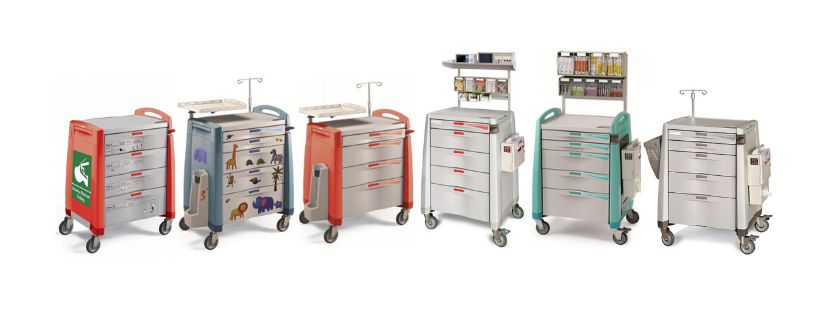 Why Choose an Avalo for Your Next Medical Trolley?
Avalo is one of the most user-requested brands of medical trolleys in the world with hundreds used in hospitals across the UK each day. So what makes them the first choice of many healthcare professionals?
Modular and Customisable Design
One size does not fit all in healthcare which is why an Avalo trolley does not work that way either. Each trolley is available in different heights and is comprised of different modules so you can order a trolley that works to the exact layout you require with only the necessary accessories you need to make your job easier and more efficient. No need for compromise.
Should the trolley ever get damaged the modular design means the affected area can simply be taken off and replaced with new. This avoids the cost of buying a completely new replacement and repairs can often be done quickly and onsite.
The modular design also enables some components to be removed entirely by hand for thorough decontamination that provides straight forward access to all surfaces.
Made from Quality Materials that Withstand Heavy Use and Cleaning
The outer surface of an Avalo trolley is made from HDPE polymers this material has been chosen as it features a high strength-to-density ratio that makes it resistant to impacts. HDPE is also corrosion resistant so it can be decontaminated continuously with strong chlorine-based cleaners without risk of damage over time.
Security Features to Meet Every Healthcare Requirement
Whether you need fast access to an emergency trolley with a unique anti-tamper locking handle or an electronic keypad locking system/ keylock to reduce the risk of a security breach when storing drugs Avalo has you covered. Simply specify the lock that works best for your needs when ordering.
Exceptionally Easy Manoeuvrability
As a trolleys purpose is to efficiently get the equipment needed from patient to patient each Avalo trolley has been designed to have great manoeuvrability and stability. Each trolley comes with lockable casters that make it simple to secure.
Confidence
Our confidence in the reliability and durability of each Avalo trolley is reflected with a 12-year warranty.
See the full range or take a look through our brochure here.