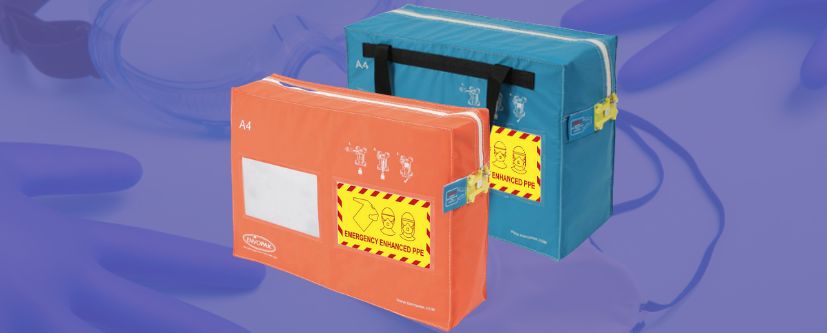 Standardise the Storage of Emergency Enhanced PPE
As clinical services adapt to a host of new changes in practice Distinctive Medical are working with our customers to provide practical and affordable solutions that enhance both staff and patient safety whilst also improving efficiency.
The requirement for an enhanced level of personal protective equipment to be readily available in emergencies has resulted in the need for easily identifiable, suitable storage.
The customisable modular storage bag has proven an ideal solution offering the following key features:
Infection Control
The modular storage bag is made from wipe clean material making decontamination quick and easy using most cleaning agents.
Remove the need for resuscitation trollies or grab bags to be opened in an emergency to access enhanced PPE thus exposing contents to airborne contaminants resulting in the need for deep cleaning or disposal of items.
Versatility
The modular storage bag can be ordered in either medium or large sizes and comes in a selection of colours. The clear window insert signage can be customised with bespoke imagery and text.
Carry handles allow for easy transportation in emergency situations, handles can also be used to hang the bag when space is limited e.g. from an IV pole on the trolley.
Tamper Evident
The use of unique tamper evident seals to secure the contents of the modular bag ensures that the PPE stored within is always rescue ready and can be incorporated into existing safety checks.
The modular storage bag is fully compatible with the digital MyKitCheck platform to provide enhanced safeguarding benefits including paperless check history, digital tamper security and electronic alerts when equipment is due to expire or has been recorded as missing.
The addition of the modular bags to MyKitCheck is provided free of charge to existing customers.
To find out more contact us today.