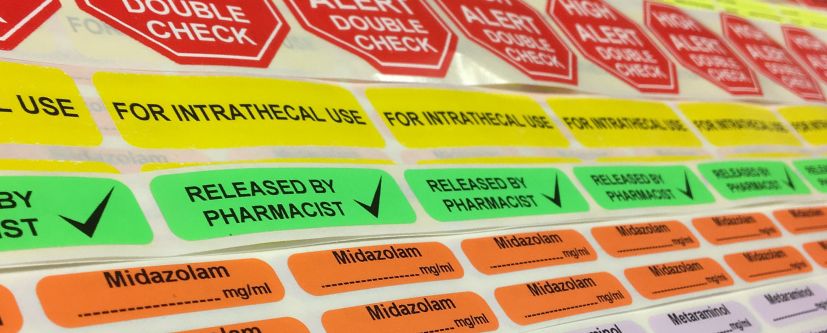 Benefits of labelling in healthcare
In healthcare clear communication is vital within clinical teams, this communication shouldn't stop when it comes to medication or equipment.
The biggest benefit of medical labelling is that it creates a system that everyone can understand. Labels create clear and concise communication, whether that is to state the contents of a syringe or to give a warning message with no ambiguity. This ensures both clinical and non-clinical staff understand how to deal with items or situations they may come across whilst working.
In a pharmacy different drugs that look almost identical to one another are stored close together with similarly spelt names. This opens up so much opportunity to make a simple mistake with impactful results. However, there is a simple way to decrease the risks of human error mistakes through clear labelling.
Pre-printed labels can clearly display messages and drug names. Tall man lettering can be used to distinguish look alike and sound alike drugs. This capitalises the parts of the name that make it different from the other medications. This simple practice saves time and reduces the risk of error that ultimately benefits patient safety. Whereas handwritten labels are open to interpretation especially in the case of ones displaying warning messages, pre-printed labels keeps the message consistent and easy to comprehend.
Here at Distinctive Medical we appreciate the important benefits a simple label can have. As a healthcare company, we stay up to date with the latest guidelines and standards set by clinical organisations. This is why we ensure all our drug labels are in accordance with those set by:
ISO 26825-2008 (E)
The Royal College of Anaesthetists
The Association of Anaesthetists of GB & Ireland
The Faculty of Accident & Emergency Medicine
The Intensive Care Society
We also offer a range of other labels from blank to ones that display information or cautions. See the full range here.
If you can't find the label you are looking for or you have a custom design in mind, please get in touch as we would love to help! Our Artwork and Printing team is on hand to create designs and labels to your exact specification.
Contact us