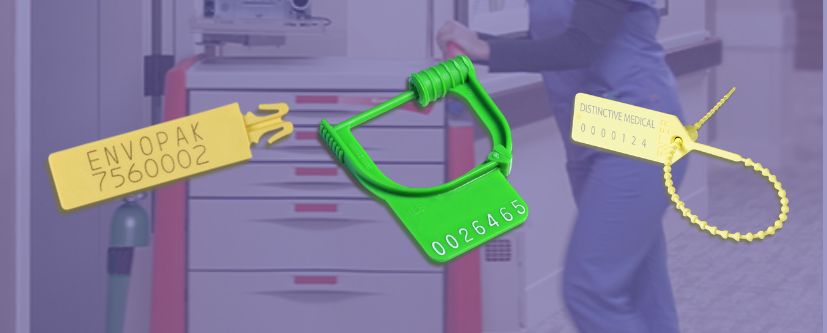 Choosing the right tamper evident seal for your equipment
We offer a wide range of tamper evident seals available in unnumbered, numbered or barcoded in a variety of designs. Some seals are designed to work best with specific pieces of equipment or have features that are best for different uses.
PS2 and PS4 Polyseals
These seals have been designed to work with our range of Envopak tamper evident bags specifically. Each of these bags features a yellow locking chamber that the zip slots into and the seal locks it into place. These seals are available in a choice of colours to suit different organisation systems.
---
This seal is easy to remove so ideal for any emergency kits where quick access is needed. The surface on this seal can be written on to display information such as the date, time and initials. This is often used on trolleys, bags and kits that contain items that have expiry dates. Once a clinician has replenished a kit, it gives them the option to write the earliest expiry date on the seal. This makes it easy to see at a glance when the kit next needs to be checked.
---
The spring lok tag comes pre-printed with a range of messages including Return to OR, Floor Tray, Broken, Discard, Dirty, Clean, Loaner, Quick Turnover, Pull Set for Service, Repair and Sharpen. This tag works with our Insausti trolley range and requires minimal effort to break so is ideal for emergency trolleys. This tag is also a great option if you are locking together a bag that has two zips.
---
This seal works with the design of our Avalo trolley range. The seal is thin so is easily broken by the guillotine on the trolley. It is important to remember that if your hospital uses Avalo trolleys using a thicker seal can blunt the blade on the guillotine.
---
This seal combines the benefits of both pull tight and padlock seals. This seal breaks away and requires no tools for removal. The design of the seal allows for quick and easy access that is best suited for sealing tote, boxes and cases.
If you have any questions about any of our seals, please get in touch so we can help you find the best seal to suit your needs.